Dailey & vincent
Celebrating All-American Music: With Country, Bluegrass, and Gospel
The Latest On All Things Dailey & Vincent!
The D&V Festivals
LandFest | WaterFest Cruise
We are thrilled to announce the stellar artist lineup for our 6th annual LandFest In The Mountains & On The Lake, set for September 12-14, 2019 at the Georgia Mountain Fairgrounds in Hiawassee, Ga!

For more information, visit DaileyAndVincent.com,
GeorgiaMountainFairgrounds.com or call the Georgia Mountain Fairgrounds at 706-896-4191.


We cannot wait to get back out on the water for a week of cruising! We have invited our friend Lee Greenwood to come cruising with us on the Red, White, and Blue Cruise. March 21-26, 2020! To reserve your spot, visit redwhitebluecruise.com or call 844-233-3393.
The 5-night, 6-day itinerary includes stops on the private island of Labadee, Haiti and historic Falmouth, Jamaica. There will be nightly concerts with us alongside the legendary Lee Greenwood and guest host Cindy Baucom.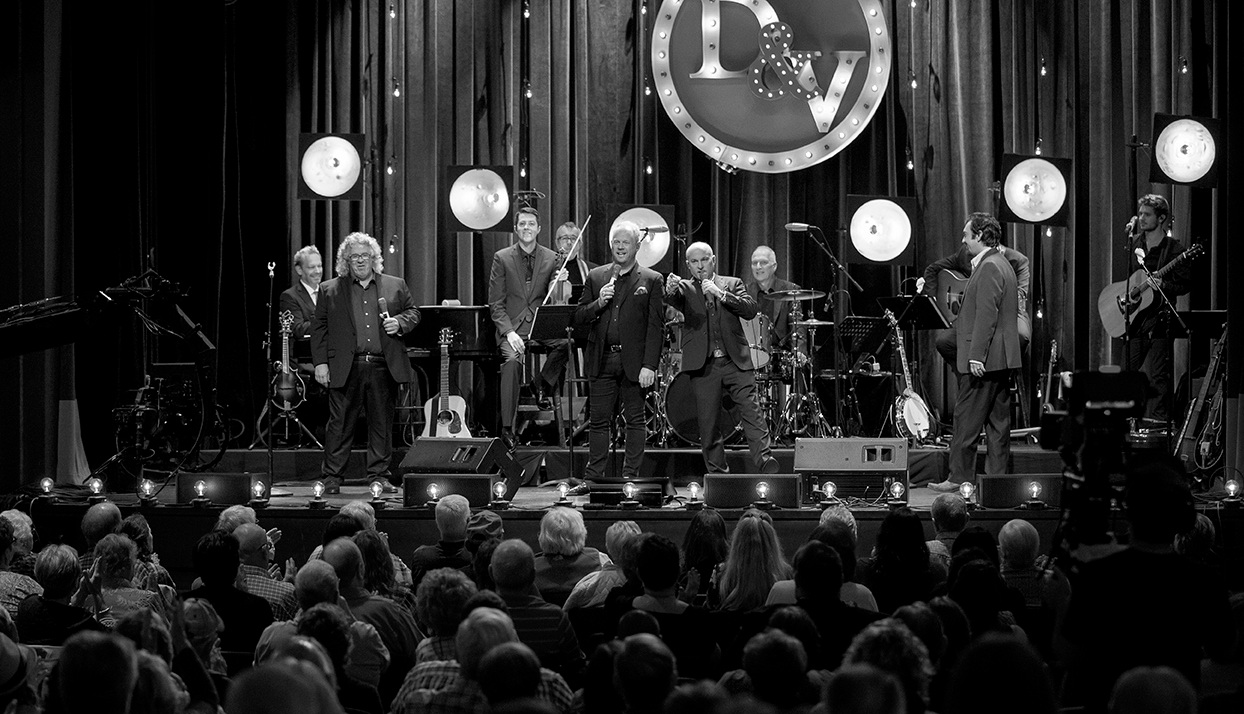 Dailey & Vincent on television
The Dailey & Vincent Show
Tune In To The Emmy® nominated Dailey & Vincent Show On RFD-TV Every Saturday Night At 9:30 PM EST/8:30 PM CST
AUGUST 2019


August 3 - Dailey & Vincent welcome their family and friends for a special two-part family tradition episode (Episode 1 of 2)!

August 10 - Dailey & Vincent welcome music megastar Vince Gill to join them for a night of music and fun!

August 17 - Dailey & Vincent welcome Country Music Hall of Fame Member and Statler Brother, Jimmy Fortune!

August 24 - Dailey & Vincent rock the stage with country hit maker, Steve Wariner!

August 31 - Dailey & Vincent welcome special guests John Carter Cash and his wife Ana for a trip down memory lane!
The Emmy® nominated Dailey & Vincent - ALIVE! In Concert features 15 songs and was recorded live during a performance at the Hylton Performing Arts Center, located on the Prince William campus of George Mason University in Manassas, Virginia. The show celebrates the best of America, including its music, its men and women in uniform, and its soaring spirit.
Along with the live performance, the DVD also features four documentaries about the duo offering almost two hours of bonus content. Viewers will also be treated to a rousing finale accompanied by a 50-person orchestra and 100-person chorale.

Visit our merch store to order your copy today!
The Radio Show
On the last Friday of every month at 6:00 PM CST, Jamie and Darrin take over the airwaves of 650 AM WSM for a special series of shows recounting their award-winning career through great music and fun stories. Springer Mountain Farms is proud to present The Dailey & Vincent Show on WSM!
The Band
Click to learn more about each member of the Dailey & Vincent crew
Celebrate this Christmas with Dailey & Vincent! Christmas 2019 is coming soon. Take a look back at A Dailey & Vincent Christmas 2018!